Say Goodbye to Imperfections with Conceal+Perfect 2-in-1 Long Wear Foundation and Concealer

"Conceal" means to hide or cover up something, like blemishes or spots on the skin, to make it look better. It's often used with makeup to make your skin look smoother and more even. For example, using a concealer can help hide under-eye circles or pimples, giving your face a more polished appearance.
Discover the ultimate solution for flawless skin with the revolutionary Conceal+Perfect 2-in-1 Long Wear Foundation and Concealer. This remarkable product combines the power of both foundation and concealer, offering a creamy, full-coverage, and water-resistant solution that effortlessly hides imperfections for an astounding duration of up to 12 hours.
Unveil a complexion that's truly flawless as this liquid concealer doubles as your secret weapon against under-eye circles, bothersome blemishes, and pesky skin discolorations. This 2-in-1 marvel streamlines your routine, delivering the benefits of both foundation and concealer in a single, versatile product.
Crafted with care, the smart vegan formula is enriched with vitamin E, providing a nourishing touch to your skin while ensuring impeccable coverage. Experience the transformative power of makeup that cares for your skin, enhancing its radiance while expertly camouflaging flaws.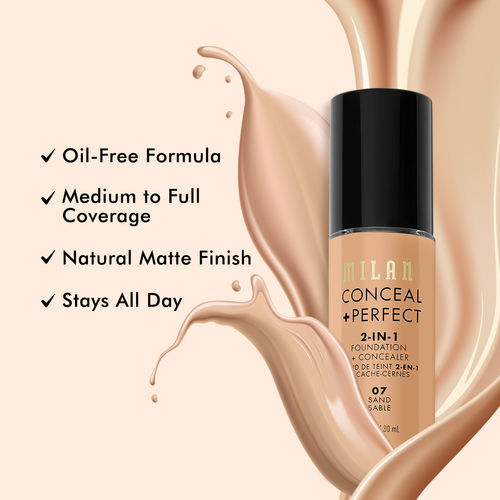 Choose your perfect match from a diverse range of shades, allowing you to seamlessly blend with your natural skin tone. Embrace the confidence that comes from a flawless complexion, as you fearlessly tackle any imperfections with the Conceal+Perfect Long Wear Concealer – your all-in-one solution for radiant beauty.

Here's a step-by-step guide on how to effectively use concealer to hide imperfections:

1. Prep Your Skin: Start with clean and moisturized skin. Applying a lightweight moisturizer or primer can create a smooth base for your concealer.
2. Choose the Right Shade:  Select a concealer shade that matches your skin tone or is slightly lighter. For under-eye circles, you can opt for a shade with a peachy or salmon undertone to counteract darkness.
3. Apply Foundation (Optional): If you use foundation, apply it first to even out your skin tone. This can minimize the amount of concealer you need to use.
4. Dab a Small Amount:  Using a clean fingertip, makeup brush, or a makeup sponge, dab a small amount of concealer onto the area you want to conceal. Common areas include under-eye circles, blemishes, redness, or any uneven skin tone.
5. Gently Blend:  Gently blend the concealer into your skin using light tapping or dabbing motions. Avoid rubbing or dragging, as this can cause the product to become uneven.
6. Build Coverage: If needed, you can apply additional layers of concealer to build coverage. However, start with a thin layer and gradually build up to avoid a cakey appearance.
7. Set with Powder (Optional): To prevent creasing and ensure longevity, you can lightly set the concealed areas with a translucent setting powder using a small makeup brush.
8. Finish Your Makeup: Complete your makeup routine with the rest of your products, such as blush, bronzer, and highlighter.
Choosing the right concealer is simple: match your skin tone, decide on coverage, and consider your skin type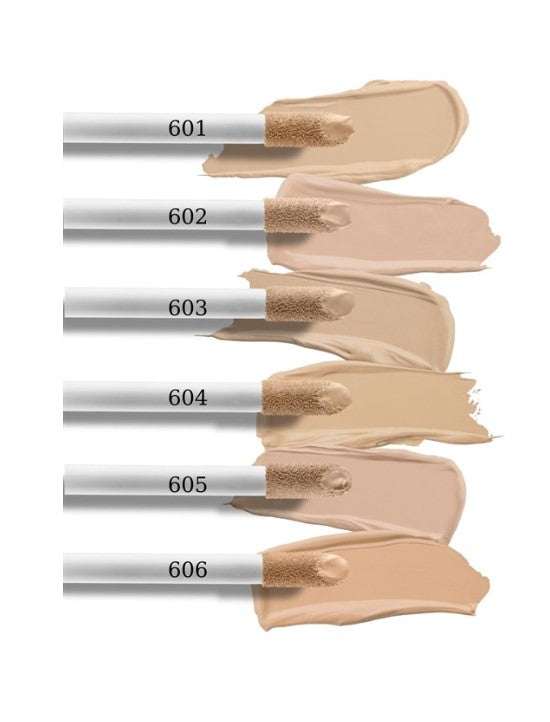 1. Purpose:  Determine why you need concealer – is it for under-eye circles, blemishes, redness? This guides your choice.
2. Skin Tone: Match the concealer shade to your skin tone. Test on your jawline in natural light.
3. Coverage: Decide on coverage. Lighter formulas like liquids offer a natural look, while creamier ones provide fuller coverage.
4. Undertones: Choose a concealer with undertones (warm, cool, neutral) that complement your skin's undertone.
5. Texture: Consider your skin type. Creams suit most, while dryer skin might prefer creamier textures.
6. Try Before Buy: Test concealer shades at the store or get samples to try at home. Check in natural light.
Buy more products here: https://clnk.in/tcun